IEA EBC Annex 62- Ventilative Cooling- 8th Expert Meeting, Gent, Belgium, October 24-25, 2017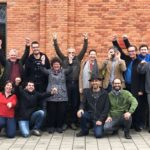 16 delegates from 10 countries attended the 8th expert meeting. The host was KU Leuven, Faculty of Engineering Technology, Technology Campus Ghent, Associate Professor Hilde Breesch.
This was the final meeting of the project and the main focus was to complete the final reports of the project. They include a Guide Book for ventilative cooling design, a Source Book for ventilative cooling technology and a book of Case Studies with 15 well-documented examples of application of ventilative cooling solutions and their performance. These publications will be available in the beginning of 2018 from the IEA and venticool websites.
The meeting also included a discussion of recommendations for standards, legislation and compliance tool to improve the application of ventilative cooling in new and existing buildings in the future. These recommendations are based on a thorough analysis of international standards in the field and of the present legislation as well as the compliance tools used in 8 European countries. The full background report as well as a short summary with recommendations will also be available in the beginning of 2018.