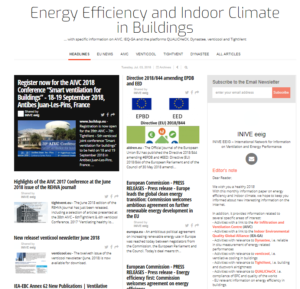 "Energy Efficiency and Indoor Climate in Buildings" has just been released. This monthly online newspaper contains relevant information on the international platform for ventilative cooling (venticool) & IEA EBC annex 62 , the Air Infiltration and Ventilation Centre (AIVC), the Dynastee platform, the building and ductwork airtightness platform (TightVent Europe) & EU relevant information.
The paper is available at the first of every month at: http://news.inive.org/
Subscribe to get informed on a regular basis on the platforms' activities.