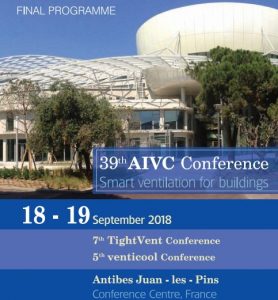 The final programme for the joint 39th AIVC, 7th TightVent –& 5th venticool conference "Smart ventilation for buildings" to be held on 18 and 19 September 2018 in Antibes Juan-Les-Pins, France is now available.
The conference will consist of 3 parallel tracks devoted to: Smart ventilation, Indoor Air Quality (IAQ) and Health relationships, Ventilation and Airtightness and, Ventilative cooling – Resilient cooling, including 115 presentations from the call for papers and presentations on invitation.
There will be a total of 17 topical sessions:
Rationale behind ventilation requirements and regulations
Integrating uncertainties due to wind and stack effect in declared airtightness results
Ductwork airtightness: Ongoing work in some European countries
Sensors for smart ventilation
Smart ventilation control strategies
Performance of heat recovery ventilation systems in practice
Air Quality in Domestic Kitchens
Development of Indoor Air Quality Metric
Assessing performance of ventilation systems
French initiatives: An update on the French indoor air quality observatory recent results: focus on ventilation and perspectives
Demand controlled ventilation in French buildings – 35 years of wide scale experience
Commissioning of ventilation systems – Improving quality of installed ventilation systems
Measurement accuracy of air flow and pressure difference
Supplementing ventilation with gas-phase air cleaning, implementation and energy implications. The new IEA-EBC annex 78
Presentation and Discussion of the recently adopted IEA EBC Annex 80 on Resilient Cooling
BIM and Construction 4.0 opportunities in relation to ventilation and airtightness
Indoor Environmental Quality Global Alliance
Keynote speakers:
Emmanuel Acchiardi, French Ministry of Housing
Nicolas Doré, French Environment and Energy Management Agency (ADEME)
Jarek Kurnitski, REHVA Vice-president – Chair of the Technology and Research Committee
Yves Lambert, European Ventilation Industry Association (EVIA)
Philippe Moseley, Executive Agency for Small and Medium-sized Enterprises, European Commission
Bjarne Olesen, ASHRAE president – Technical University of Denmark.
Donald Weekes, Indoor Environmental Quality Global Alliance (IEQ-GA) President
The final programme can be found at: http://www.aivc2018conference.org/#FINAL-PROGRAMME
An overview of the draft programme is available at: http://aivc2018conference.org/#PROGRAMME-AT-A-GLANCE
Registration is still possible but now ONLY ON SITE.
For further information please visit the conference website at: http://aivc2018conference.org/