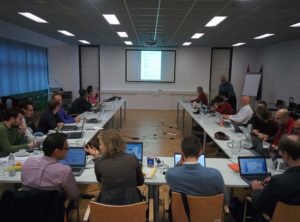 25 delegates from 12 countries attended the 6th  IEA-EBC annex 62 expert meeting. The hosts were the Austrian Ministry of Transport, Innovation and Technology (Isabella Zwerger) and the Institute of Building Research & Innovation (Dr. Peter Holzer), who in conjunction with the meeting also organised the "Ventilative Cooling Symposium 2016".
One of the most important issues at this meeting was the discussion of the test of newly developed energy performance indicators for ventilative cooling, which potentially could be included in energy performance regulation. Secondly, based on the best practices in building regulations in relation to ventilative cooling collected among participating countries, a common case has been developed to compare and evaluate the different national approaches and compliance tools. The results will be summarised highlighting similarities and differences and recommendations on minimum requirements for compliance tool calculations for ventilative cooling will be provided.
A database of existing ventilative cooling systems include 118 buildings from 15 countries with a systematically documentation of characteristics, used technologies, typical components and control strategies depending on climate, building type, building design. 68 of the buildings are added to the venticool platform at the moment More cases will be added in 2017.
The results of Annex 62 will be presented in a Guide Book, a Source Book and in a book of Case Studies. The first drafts of these publications have been developed and will be further elaborated before their official publication in the end of 2017.
The next and 7th Annex 62 Expert Meeting will be in Lisbon, Portugal on May 15-17, 2017. The host of the meeting will be FCUL (Prof. Guilherme Carrilho da Graca).